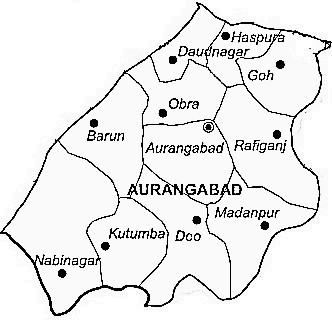 Aurangabad district is one of the thirty-eight districts of Bihar state, India. It is currently a part of the Red Corridor.
It is the district's centre of governance and has a population of 101,520. The people of this region speak Magahi and Hindi.
History
Aurangabad is sometimes called the "Chittorgarh of Bihar" because of its largely Rajput population of the Suryavanshi lineage. Since the first Indian general elections in 1952, Aurangabad has only ever elected Rajput representatives.Other family clans represented in Aurangabad include the Mauryans, Guptas and the Gahadavalas (locally spelt "Gadhwal, Gaharwal in Bihar").
In ancient times, Aurangabad was located in the Mahajanapada kingdom of Magadh (1200 – 322 BCE). The ancient rulers of the town included Bimbisara (late 5th century BCE), Ajatashatru (early 4th century BCE), Chandragupta Maurya (321 – 298 BCE) and Ashoka (268 – 232 BCE).
During the rule of Sher Shah Suri (1486 – 1545 CE), Aurangabad became strategically important as part of the Rohtas Sirkar (district). After the death of Sher Shah Suri Aurangabad fell under the rule of Akbar. The Afghan upsurge in the area was suppressed by Todar Mal. Some elements of Afghan architecture remain.
After the downfall of the Mughal Empire, Aurangabad was ruled by the zamindars. the wealthy land owners, including those of Deo, Kutumba, Mali, Pawai, Chandragarh, and Siris. The zamindars resisted British rule. For example, Fateh Narayan Singh of Deo, descendent of Maharana Pratap, supported Kunwar Singh against the British.
Fateh Narayan Singh had cordial relationships with the Gahadvalas, Chauhans, Kandwar, Sikarwar Bisens and his own Parmar Rajputs of the Gaya-Patna-Shahabad districts of Bihar. In 1857, a joint army of Rajputs led by the men of Fateh Narayan Singh, rode towards Jagdispur in support of Kunwar Singh. A battle took place on the banks of the Son river.
In 1865, Bihar District was separated from Patna District. Aurangabad was made a subdivision of Bihar district. Stement was the first subdivisional officer of Aurangabad subdivision. The first Member of Parliament from the district was the former Chief Minister of Unified Bihar, Satyendra Narayan Singh (Chhote Saheb).
On 26 January 1973, Aurangabad district, Bihar was created (government notification number 07/11-2071-72 dated 19 January 1973). K. A. H. Subramanyam was the first district magistrate and Surjit Kumar Saha was the sub-divisional officer.
Geography
Aurangabad district occupies an area of 3,389 square kilometres (1,309 sq mi),comparatively equivalent to Russia's Vaygach Island.Aurangabad town is the administrative headquarters of this district. Aurangabad district is a part of Magadh division.
Rivers:
Son,
Punpun,
Auranga,
Bataane,
Morhar,
Aadri
Assembly constituencies
There are six assembly constituencies in Aurangabad district.
219 – Goh
220 – Obra
221 – Nabinagar
222 – Kutumba (SC)
223 – Aurangabad
224 – Rafiganj
224 – Bhalu Khaira
Subdivisions
Aurangabad District comprises the following subdivisions:
Blocks:
Madanpur
Kutumbba
Daudnagar
Aurangabad
Barun
Obra
Deo
Nabinagar
Haspura
Goh
Rafiganj