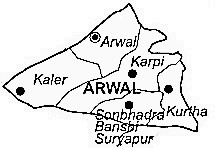 Arwal district is one of the thirty-eight districts of Bihar state, India, and Arwal town is the administrative headquarters of this district. It was earlier part of Jehanabad district.
Geography
Arwal district occupies an area of 638 square kilometres (246 sq mi),[3] comparatively equivalent to Canada's Foley Island.In Arwal district near mehandia MADHUSHARWA MELA, which is famous for ancient SHIV TEMPLE.
Language
The language spoken here is Magahi.
Sub- Divisions
The district comprises only one sub-division, Arwal Sadar, which is further divided into five blocks:-
Arwal,
Karpi,
Kaler,
Kurtha
Suryapur Vanshi.