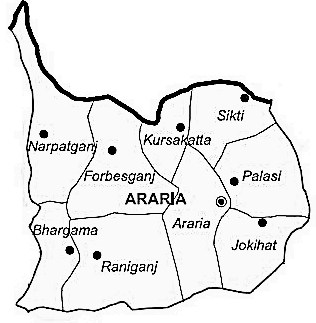 Araria district is one of the thirty-eight districts of Bihar state, India, and Araria town is the administrative headquarters of this district. Araria district is a part of Purnia division. The district occupies an area of 2830 km². It has a view of Mount Kangchenjunga (One of the great peaks of the Himalayan range). This District has total 9 blocks (CD Block ).Basit Anwer(hatgaon),raamnagar,jokihat,araria.
Origin of name
During the British period, the area where Mr. Forbes's bungalow was located was called "Residential Area", which people abbreviated to R. Area. Over time, R. Area acquired the pronunciation Arariya.
Geography
Araria district occupies an area of 2,830 square kilometres (1,090 sq mi), comparatively equivalent to Russia's Zemlya Georga.
The major rivers of this district are Kosi, Suwara, Kali,Parmar and Koli.
Sub-Divisions
Araria district comprises the following Sub-Divisions:
Araria sub-division comprises 4 blocks:
Araria,
Bhargama,
Siktti
Raniganj
Frobesganj sub-division comprises 5 blocks:
Kursakanta
Forbesganj
Bhargama
Raniganj
Narpatganj
Raniganj andBhargama are under the joint jurisdiction of both the sub-divisions.
There are six Vidhan Sabha constituencies in this district:
Narpatganj,
Raniganj,
Forbesganj,
Araria,
Jokihat
Sikti.
All of these are part of Araria Lok Sabha constituency.
See also